Laura Mvula's new single "Phenomenal Woman" is a colorful ode to the fly Black girls (and women) of the world. Shot in the Bo-Kaap area of Capetown, South Africa, Mvula dances through the streets reminding the women she encounters of their undeniable dopeness.

Mvula, who moves between genres with ease, delivered an up-beat rock/funk song that's filled with positive vibes. Mvula has been honest about her struggles with depression and anxiety, and seeing her exude joy is a treat.

Bo-Kaap is known for its colorful homes, and the wardrobe mirrors those bright hues.
Photo by Dan Kitwood/Getty Images
Clad in vibrant prints, Mvula honors the Diaspora. The song's lyrics are pointed specifically toward Black women.
"Nobody ever told her she was beauty/One day she realized she was already free," she sings.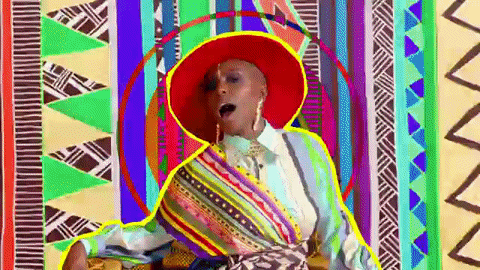 If the literary title rings a bell, it's because Mvula was inspired by Maya Angelou's iconic poem on the magic of Black girls (before it was a hashtag).
"I wrote this anthem to raise up our women," Mvula said in a statement. "We are the givers of life, we are the children bearers, the nurturers, the heroines, we are extraordinary in our ordinariness, we fly, we fight we are 'Phenomenal Woman'."
Support Laura Mvula and purchase "Phenomenal Woman" on
iTunes
or
Amazon
#BlackGirlMagic
Laura Mvula