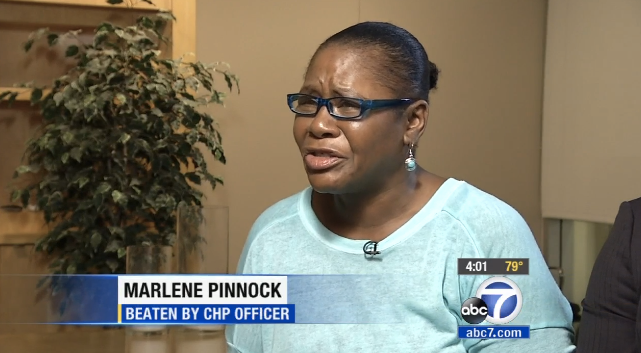 In July, 51-year-old Marlene Pinnock was walking on the side of a California highway when a California Highway Patrol officer threw her to the ground and began brutally beating her in the face. That officer, Daniel Andrew, has not been subject to any disciplinary action but he has been placed on "non road patrol duty", and CHP says its investigation is ongoing.
She explained to Marc Brown of New York's ABC7 that the officer provided her no warning or reason before beating her. "He wasn't saying no reason. He was just socking me—just beating me."
Pinnock says she still has pain and swelling fron the blows she sustained.
Watch the video below:
---
Kimberly Foster is the founder and editor of For Harriet. Email or Follow @KimberlyNFoster