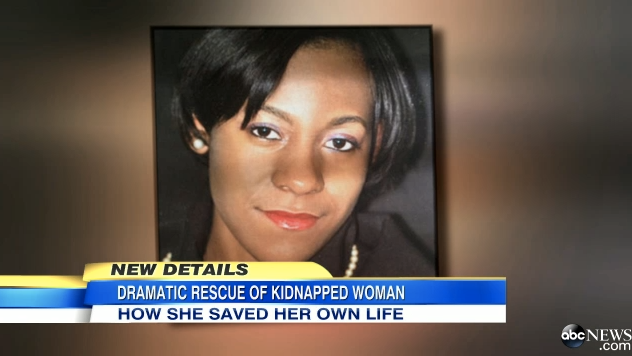 Police have commended Carlesha Freeland-Gaither, 22, for her the series of smart actions that aided law enforcement in their search for her. Freeland-Gaither was abducted off of a Philadelphia street by Delvin Barnes and found 120 miles away in Jessup, Maryland.


ABC News reports

Freeland-Gaither struggled to get free of her attacker, and was forced into his car. She continued battling and smashed the car's rear window while Barnes allegedly was trying to drive away as quickly as possible.

Her cell phone was left near the site of the abduction, and police believe that she either purposefully dropped it during the struggle or threw it out the window as a clue.

"We believe that... she left it there for us to find," Philadelphia Police Det. Jim Sloan said. The phone alerted police to the identity of the victim.

"She's an intelligent girl," Sloan said Thursday.

Police said the next clue came when she told her alleged captor the correct pin for her debit card, rather than trying to stop him from withdrawing funds from her account. Because she gave him the right code, he was able to withdraw funds from her account at an ATM machine in Aberdeen, Maryland, effectively telling police where she has been taken.

Authorities said Barnes made a number of mistakes himself which also contributed to the search, the most notable of which was his apparent disregard for surveillance cameras.

Because police were able to read the exact moment that her card was used at the ATM, they could cross check that with security cameras around the ATM at that time and then widely release that footage along with a description of the suspect.

That description matched a man who bought a bag of potato chips and water at a nearby grocery store, giving investigators another stop on the trail.

Surveillance footage played a role in the case from the get-go as news of the abduction broke just hours after the attack because it was caught on camera.

Law enforcement in Virginia recognized a telling sticker on the suspect's car and connected that car to Barnes, who was wanted in Virginia in a different attack. Authorities said investigators were able to determine the Virginia car dealership where Barnes bought the car. That dealership had GPS installed in the car as part of a program for financially worrisome customers. That GPS led police right to the vehicle in Jessup, Maryland, where agents took him into custody and rescued Freeland-Gaither.
Kimberly Foster is the founder and editor of For Harriet. Email or Follow @KimberlyNFoster
abductions
Carlesha Freeland-Gaither
kidnappings
police