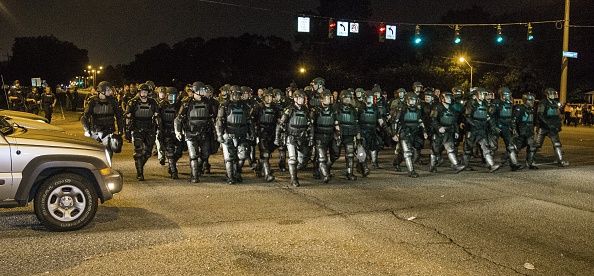 Photo by Mark Wallheiser/Getty Images
As protests for the police killing of Alton Sterling continue in Baton Rouge, Louisiana, the city's police department continues to disregard the rights of protestors and property owners.
Heavily armed riot police came into residential neighborhoods with armored trucks on Saturday, and Lisa Batiste invited protestors to gather on her lawn and porch so that they could clear the street.
Police stormed the yard and entered her home to round up and arrest protestors.
The Daily Beast
reports
that the protestors demonstrated non-violently for 90 minutes before the police moved in.
Video from the incident posted on Twitter shows the swarm.
— greg (@n9viv) July 11, 2016
Batiste says she was "appalled" by their behavior.
"I was stunned," she told David Begnaud of
CBS News.
"I just couldn't believe what they were doing."
Baton Rouge home owner "very upset" after police storm her yard arresting protesters who had permission to be there

pic.twitter.com/gwE8aRGKfL

— David Begnaud (@DavidBegnaud) July 11, 2016
She alerted the police that they were coming on to private property, but this did nothing. "I said 'This is my home. I don't want you here. Please get out of my home.'"
A lieutenant with the BRPD said that the protestors on Batiste's porch had already broken the law. "The crime was blocking the roadways."
Other sources say the protestors were detained preemptively because BRPD thought they would create a blockade on the highway.
Alton Sterling
Baton Rouge
police
protests